Punta Gorda Housing Authority Introduces New Logo
Date Posted: 07/25/2023
The Punta Gorda Housing Authority rebranded in the Summer of 2023 with a new logo.
Our new logo brand is unique to the Punta Gorda Housing Authority. The PGHA Logo features stylized houses with two palm trees and a Florida sunset.
The Punta Gorda Housing Authority pledges to recognize our residents as the ultimate customer; to design, develop, provide, and promote the widest range of housing choices available throughout the City of Punta Gorda; and to administer our programs and manage our housing in the most effective and efficient manner possible by maintaining high-quality standards while extending respect, courtesy, and consideration to our clients at all times.
The new image brands capture the Punta Gorda Housing Authority's spirit and will be used internally and externally to identify our projects.
The logo brands were produced for us by the creative agency Brooks Jeffrey Marketing, Inc., an award-winning national firm serving Housing Authorities nationwide.
Established in 1984, Brooks Jeffrey Marketing provides integrated marketing solutions: advertising, branding, photography, public relations, promotional items, websites & social media campaigns to businesses, government entities & non-profits throughout the US. (www.BrooksJeffrey.com)
New Branding: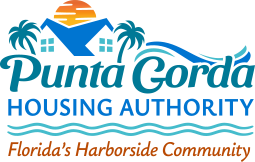 Old Branding: